The Legends Golf Club is dedicated to iconic golfers who've left an everlasting imprint on the game throughout history. The holes here at the Legends are each named after a legendary golfer who had remarkable careers.
Discover these greats of the game:
---
Thomas Mitchell Morris, Sr. was born on June 16, 1821, otherwise known as Old Tom Morris, was a pioneer of professional golf. Morris was the son of a weaver and began golf by age ten by knocking wine bottle corks pierced with nails to serve as balls around the streets of St. Andrews using a homemade club. He started caddying and playing golf from a young age and was hired as an apprentice at age 14 to Allan Robertson, golf's first professional.
Morris worked under Robertson at St. Andrews until 1851, when he was fired on the spot after being caught by Robertson playing the new guttie golf ball. Morris was hired by Prestwick. At Prestwick he designed, laid out, and maintained the course, ran his own golf equipment business and gave instruction to players. He was influential in beginning The Open Championship in 1860 and struck the very first shot in that event. Morris returned to St. Andrews as greens keeper and professional in 1865.
Old Tom won The Open Championship 4 times: 1861, 1862, 1864, & 1867.
---
Harry Vardon was born in Grouville, Jersey, Channel Islands on May 9, 1870. Harry and his brother Tom grew up as caddies. Their golf development was held back by poor family circumstances; and their father was not supportive of his sons' golf interest. Tom actually made the move to England first to pursue a golf career. Tom moved to England in the spring of 1890, taking a job as greenskeeper for a club in Yorkshire.
By his early 20's, Harry developed a demanding practice program, the most ambitious seen to that time. Harry was the first professional golfer to play in Knickerbockers.
In 1896, Vardon won the first of his record six Open Championships. In 1900 he became golf's first international celebrity when he toured the United States and won the 1913 U.S. Open.
Vardon was also famous for the Vardon Grip or overlapping grip, the grip most popular among golfers. Vardon won 7 major championships including: The Open Championship in 1896, 1898, 1899, 1903, 1911 & 1914. He won the U.S. Open in 1900.
---
Hagen was born in Rochester, New York on December 21, 1892. Hagen developed his golf game at the Country Club of Rochester, beginning as a caddy, and earned money to help support his family from pre-teen age. Hagen played golf at every chance he got; caddy access to the course was limited to off-peak times, as it was elsewhere in the U.S. during that era. Hagen became an expert player by his mid-teens and was hired by the club to give lessons to club members and to work in the golf shop.
Hagen was a key figure in the development of professional golf. He emerged in an era when the division between amateurs having the upper hand. Golf professionals were not allowed to enter the clubhouse. On one occasion he refused to enter a clubhouse to claim his prize because during the tournament he was not allowed inside. Hagen's goal was to have the professionals treated as well as the amateurs were treated.
In 1918, Hagen served as the first golf professional at the now legendary Oakland Hills C.C. in Michigan. He worked there until 1919 when he made his living by giving exhibitions, clinics and playing professionally.
Hagen was a dashing and assertive character who raised the status of professional golfers and improved their earnings as well. Hagen made significant money endorsing golf equipment for Wilson Sports. His nickname was "Sir Walter."
Hagen's major victories were 11 and still ranks third on the all-time list of major winners behind Tiger Woods and Jack Nicklaus.
Hagen's majors victories: U.S. Open 1914, 1919; British Open 1922, 1924, 1928, 1929; PGA Championship 1921, 1924, 1925, 1926, 1927.
---
Gene Sarazen was born Eugenio Saraceni on February 27, 1902 in Harrison, New York. He changed his name after seeing it in a newspaper and thought it sounded more like a violin player than a professional golfer.
Sarazen began caddying at age ten at local country clubs, took up golf himself by sneaking on golf courses early in the morning. He was a self-taught player. Sarazen took a series of club professional jobs in the New York area from his mid-teens and worked hard on his game. Sarazen won his first major championships – the 1922 U.S. Open and PGA Championship – at age 20. He was a contemporary and great rival of Bobby Jones, who was born in the same year. Sarazen also had many great battles with Walter Hagen.
Sarazen invented the modern sand wedge and debuted the club at the British Open at Prince's Golf Club in 1932 which he won. Sarazen hit probably the greatest shot called "the shot heard round the world" in the 1935 Masters Tournament. It was a final round 235 yard 4-wood on the par 15th hole that went in, giving him a very rare double eagle 2 on the hole. He then tied for the lead and won the Masters in a playoff the next day.
Gene Sarazen won 7 major championships and the 1st player to have won all four of the majors: U.S. Open 1922, 1932; British Open 1932; Masters Tournament 1935; PGA Championship 1922, 1923, 1933.
---
Robert Tyre "Bobby" Jones was born on March 17, 1902 in Atlanta, Georgia. Jones developed quickly into a child prodigy, who won his first children's tournament at the age of 6, and made the third round of the U.S. Amateur Championship at 14. That same year 1916, he won the Georgia State Amateur Championship for his first important title.
Jones was trained and coached by club professional Stewart Maiden, a native of Carnoustie, Scotland. Maiden was the professional at the Atlanta Athletic Club's East Lake Golf Club. Jones remained an amateur throughout his golf career and earned his law degree and became a successful lawyer. During his peak as a golfer from 1923 to 1930, he dominated top-level amateur competition, and competed very successfully against the world's best professional golfers in the British Open and U.S. Opens.
Jones is most famous for his unique "Grand Slam," consisting of his victory in all four major golf tournaments of his era; the Open and Amateur Championships in both the U.S. and the U.K. in a single calendar year (1930).
After retiring from competitive golf in 1930, Jones founded and helped design the August National Golf Club and also co-founded the Masters Tournament in 1934. The Masters evolved into one of golf's four major championships.
Jones won the: U.S. Open 1923, 1926, 1929, 1930; British Open 1926, 1927, 1936; U.S. Amateur 1924, 1925, 1927, 1928, 1930; and the British Amateur in 1930.
---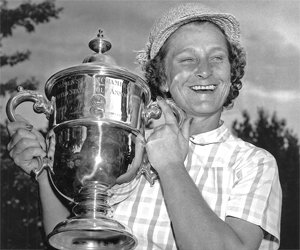 Hole 6
Babe Didrikson Zaharias
The Babe was born in the coastal oil city of Port Arthur in Southeastern Texas. Didrikson gained fame in track and field and All-American status in basketball. She played organized baseball and softball and was an expert diver, roller-skater and bowler. She won two gold medals and one silver medal for track and field in the 1932 Los Angeles Olympics.
In 1935 she began to play golf, a late comer to the sport in which she became the most famous. She went on to become America's first female golf celebrity and the leading player of the 1940's and early 1950's.
Zaharias had her greatest year in 1950 when she completed the Grand Slam of the three women's majors of the day: the U.S. Open, The Titleholders Championship and the Women's Western Open, in addition to leading the money list. She won 10 major championships and was one of the founders of the LPGA.
Major Championships: Western Open 1940, 1944, 1945, 1950; Titleholders Championship 1947, 1950, 1952; U.S. Women's Open 1948, 1950, 1954.
---
John Bryon Nelson was born near Waxahachie, Texas on February 4, 1912. When Nelson was 11 years old, the family moved to Fort Worth, where he barely survived typhoid fever. After he recovered he started caddying at Glen Garden Country Club. As a 14 year old he beat fellow caddy Ben Hogan by a single stroke after a nine-hole playoff. Nelson and Hogan were rivals but close friends in their teen years and for the first part of their professional careers as well, but Nelson's early success was difficult for the struggling Hogan to deal with and they gradually grew apart while retaining mutual respect.
Nelson is credited as being the father of the modern golf swing. Nelson was among the first who developed a full swing with increased leg drive leading the down swing. In 1945 Nelson enjoyed a record-breaking year winning 18 tournaments including 11 in a row. Both records are still to be beaten.
Nelson was referred to as "Lord Byron" because of his gentlemanly conduct. He had 52 tour wins including: 2 Masters Tournaments, 1 U.S. Open and 2 PGA Championships.
---
Sam Snead was born in Ashwood, Virginia, near Hot Springs, Virginia. At the age of seven, he began caddying at The Homestead in Hot Springs; he worked as an Assistant Pro at The Homestead at 19 and turned professional in 1934.
Snead's nickname was "Slammin' Sammy" and he was admired by many for having the so-called "perfect swing." Snead was famed for his folksy image, wearing a straw hat and playing bare foot. Sam Snead has the most PGA Tour victories with 82. He also has the most PGA Tour victories at an event: 8 at the Greater Greensboro Open. He was the oldest player to win a PGA Tour event at age 52. Sam Snead was the first PGA Tour player to shoot his age: 67. Sam Snead served in the U.S. Navy during World War II when the majors tournaments were cancelled.
Sam Snead won 7 major championships including: 3 PGA Championships, 3 Masters Tournaments, and 1 British Open Championship.
---
William Ben Hogan was born in Stephenville, Texas on August 13, 1912. His family moved to Dublin, Texas and then later to Fort Worth. He started caddying at Glen Garden Country Club when he was 11 years old. One of his fellow caddies at Glen Garden was Byron Nelson.
Hogan turned professional and played at the Texas Open in San Antonio in late 1930 at 17 years old. Hogan met Valerie Fox in Sunday school in Fort Worth in the mid-1920's and they reacquainted in 1932 when he landed a low-paying club pro job in Cleburne, Texas. They were married in 1935.
His early years as a pro were very difficult, and Hogan went broke more than once. He did not win his first pro tournament as an individual until March 1940, when he won three consecutive tournaments in North Carolina.
Between the years 1938 through 1959, Hogan won 63 professional golf tournaments despite his career being interrupted in its prime by World War II and a near-fatal car accident.
In 1953 Hogan had one of golf's greatest years, in which he won 5 of the 6 tournaments he entered including 3 major championships. His nickname was "The Hawk."
Ben Hogan won 9 major championships: PGA Championship 1946, 1948; U.S. Open Championship 1948, 1950, 1951, 1953; Masters Tournament 1951, 1953 and the British Open 1953.
---
Arnold Palmer was born in Latrobe, Pennsylvania on September 10, 1929. He attended Wake Forest University, on a golf scholarship. He left upon the death of a close friend, Bud Worsham, and enlisted in the United States Coast Guard where he served for three years. Palmer returned to college and competitive golf. He won the 1954 U.S. Amateur and then decided to try the pro tour for a while.
Palmer won the 1955 Canadian Open in his rookie season and raised his game status for the next several seasons. Palmer's charisma was a major factor in establishing golf as a compelling television event in the 1950's and 1960's. He is one of the most loved players of all time. He built up a wide fan base known as Arnie's Army. He is credited with revitalizing the British Open which he won twice. His nickname was "The King."
Arnold Palmer won 7 major championships. Palmer won: 4 Masters Tournaments, 1 U.S. Open, and
2 British Open Championships.
---
Mary Kathryn "Mickey" Wright was born on February 14, 1935 in San Diego. Her first important title was the 1952 U.S. Girls' Junior Championship. She attended Stanford University and played for its golf team, but left before graduation.
Wright joined the LPGA Tour in 1955. She won 82 events on the LPGA Tour, which puts her second on the all-time win list. Thirteen of her victories were in major championships, which places her second to Patty Berg, who won fifteen majors. Wright topped the LPGA money list for four consecutive seasons, from 1961 – 1964. Wright won at least one LPGA title for 14 straight seasons, from 1956 – 1969.
Wright was coached by Harvey Penick. Ben Hogan said Wright's swing was the best he had ever seen. Wright retired from full-time golf at age 34 in 1969. Wright won 12 majors between 1958 and she is the only player in LPGA history to hold all 4 major titles at the same time.
Major championships: Western Open 1962, 1963, 1966; Titleholders Championship 1961 & 1962; LPGA Championship 1958,1960,1961 1963; U.S. Women's Open 1958, 1959, 1961 & 1964.
---
Kathy Whitworth was born in Manahans, Texas on September 27, 1939. She began playing golf at the age of 15 and won the 1957 and 1958 New Mexico State Amateur Championship. She became a professional player at 19 joining the LPGA in December 1958.
Throughout her playing career she won 88 LPGA Tournaments more than anyone else has won. In 1981 she became the first woman to reach career earnings of 1 million on the LPGA Tour.
In 1962 she won her first tournament, the Kelly Girls Open. She won a total of six major championships. She was LPGA Player of the Year seven times between 1966 & 1973. She was the U.S. Team Captain at the inaugural Solhein Cup match in 1990.
LPGA Majors Championships: Western Open 1967; Titleholders Championship 1965, 1966; LPGA Championship 1967, 1971, 1975.
---
Gary Player was born in Johannesburg, South Africa on November 1, 1935 and is widely regarded as one of the greatest players in the history of golf. The Virginia Park Golf Course in Johannesburg is where Player first began his love affair with golf.
Player's dad had to get a loan to buy his son his first golf clubs. At the age of 14, Player played his first round of golf and parred the first three holes. At age 17, he became a professional golfer.
Along with Arnold Palmer and Jack Nicklaus he is often referred to as one of "The Big Three" golfers of his era – from the late 1950's through the late 1970's when golf boomed in the United States and around the world, greatly encouraged by expanded television coverage.
Along with Gene Sarazen, Ben Hogan, Jack Nicklaus & Tiger Woods, he is one of only five players to win golf's "Career Grand Slam."
Gary Player won 9 major championships: The Open Championship 1959, 1962, 1974; Masters Tournament 1961, 1974, 1978; U.S. Open 1965; PGA Championship 1962, 1972.
---
Billy Casper was born in San Diego, California. His father started him in golf at age five. Casper caddied during his youth at San Diego Country Club to earn money for golf. Casper turned professional in 1954.
Casper had 51 PGA Tour wins in his career, with his first coming in 1956. This total places him seventh on the all time list. Casper won The Vardon Trophy for lowest scoring average five times: 1960, 1963, 1965, 1966 & 1968. He was a member of the United States Team in the Ryder Cup eight times. Casper has scored the most points in the Ryder Cup by an American player.
Much has been written in the annals of golf that Casper was the most underrated star in golf history. He was not considered one of the Big Three – Nicklaus, Palmer & Player – who are credited with popularizing the sport; however between 1964 & 1970, Casper won 27 PGA Tour events – 2 more than Nicklaus and 6 more than Palmer & Player combined, during that period. He is considered the best putter of his era.
Casper won 3 majors: U.S. Open 1959, 1966, Masters Tournament 1970
---
Lee Trevino was born on December 1, 1939 in Dallas, Texas. Trevino was introduced to golf when his uncle gave him a few balls and an old golf club. He started caddying full-time. He was also able to practice golf, since the caddies had three short holes behind the shack.
When he turned 17 he enlisted in the U.S. Marine Corps. Part of his time was spent playing golf with Marine Corps Officers.
After his discharge, Trevino became a professional working as an assistant in El Paso, Texas. He made extra money by gambling for stakes in head-to-head matches. He began to play on the PGA Tour in 1967. He was named Rookie of the Year by Golf Digest.
In 1968, his second year on the circuit, Trevino won the U.S. Open. During his career, Trevino won 29 times on the PGA Tour, including 6 majors. He was at his best in the early 1970's, when he was Jack Nicklaus's chief rival. He had probably the greatest 21 days in golf in 1971 when he won the U.S. Open, Canadian Open & the British Open.
Major Championships: U.S. Open 1968, 1971; The Open Championship 1971, 1972; PGA Championship 1974, 1984.
---
Tom Watson was born on September 4, 1949 in Kansas City, Missouri. Watson was introduced to the game by his father, Ray. His early coach was Stan Thirsk at the Kansas City Country Club. Watson won four straight Missouri State Amateur Championships. He attended Stanford University playing on the golf team and graduated with a degree in Psychology in 1971.
Watson joined the PGA Tour in 1971 and gradually improved. After losing a lead in the 1974 U.S. Open at Winged Foot, he was approached by Bryon Nelson who offered encouragement and eventually gave Watson lessons which helped him become a champion.
Watson became one of the greatest links players by winning 5 British Open Championships. He hit one of the all-time great shots in golf history by pitching in a shot to win the U.S. Open at Pebble Beach in 1982.
Major Championships: The Open Championship 1975, 1977, 1980, 1982, 1983; Masters Tournament 1977, 1981; U.S. Open 1982.
---
Annika Sorenstam was born on October 9, 1970 in Bro, Sweden. As a child, Sorenstam was a talented all-round sports girl. She was a nationally ranked tennis player, played soccer and was an outstanding skier. At the age of 12, she switched to golf.
She went to college at the University of Arizona. She won seven collegiate titles and in 1991, became the first freshmen to win the individual NCAA National Championship. 1995 was her break-out year when she won her first LPGA Tour title at the U.S. Women's Open. In 1996 Sorenstam won three LPGA Tournaments including the U.S. Women's Open. In defending her title she became the first non-American to win back to back U.S. Women's Open Titles.
Sorenstam has won 10 major championships: U.S. Women's Open 1995, 1996, 2006; Kraft Nabisco Open 2001, 2002, 2005; McDonald's LPGA Championship 2003, 2004, 2005; Women's British Open 2003.
---
Jack Nicklaus was born on January 21, 1940 in Upper Arlington, Ohio. Jack went to Upper Arlington High school, whose nickname and mascot are called the Golden Bears.
Jack took up golf at the age of 10 and was taught by a former PGA Tour veteran, Jack Grout. Grout was the golf professional at Scioto Country Club. Nicklaus started setting records at an early age and won the Ohio Open in 1956 at age 16 competing against professionals.
While attending Ohio State University, he won the U.S. Amateur twice 1959 & 1961 and an NCAA Championship in 1961.
His first professional win was the 1962 U.S. Open. He won a playoff against heavily-favored Arnold Palmer. In 1963 Nicklaus won two of the four major championships – The Masters and the PGA Championship.
Jack Nicklaus has won a record 18 majors championships: U.S. Open – 1962, 1967, 1972, 1980; Masters Tournament – 1963, 1965, 1966, 1972, 1975, 1986; The Open Championship – 1966, 1970, 1978; PGA Championship – 1963, 1971, 1973, 1975, 1980.